The Marriage of Stocks and Options
The Wizard picks the Best Trade and Price Target
And then the Magic Happens
Wizard Options picks the best:
Delta, Gamma, Vega, Theta, Implied Volatility and contract month, instantly.
Then it calculates the Investment required and tells you your probable Profit and Loss and the ROI (return on investment) when the target is hit.
Wizard Options is an exclusive Wizard Product.
It requires a PC running Windows 10, or an emulator such as Parallels for Mac OSX.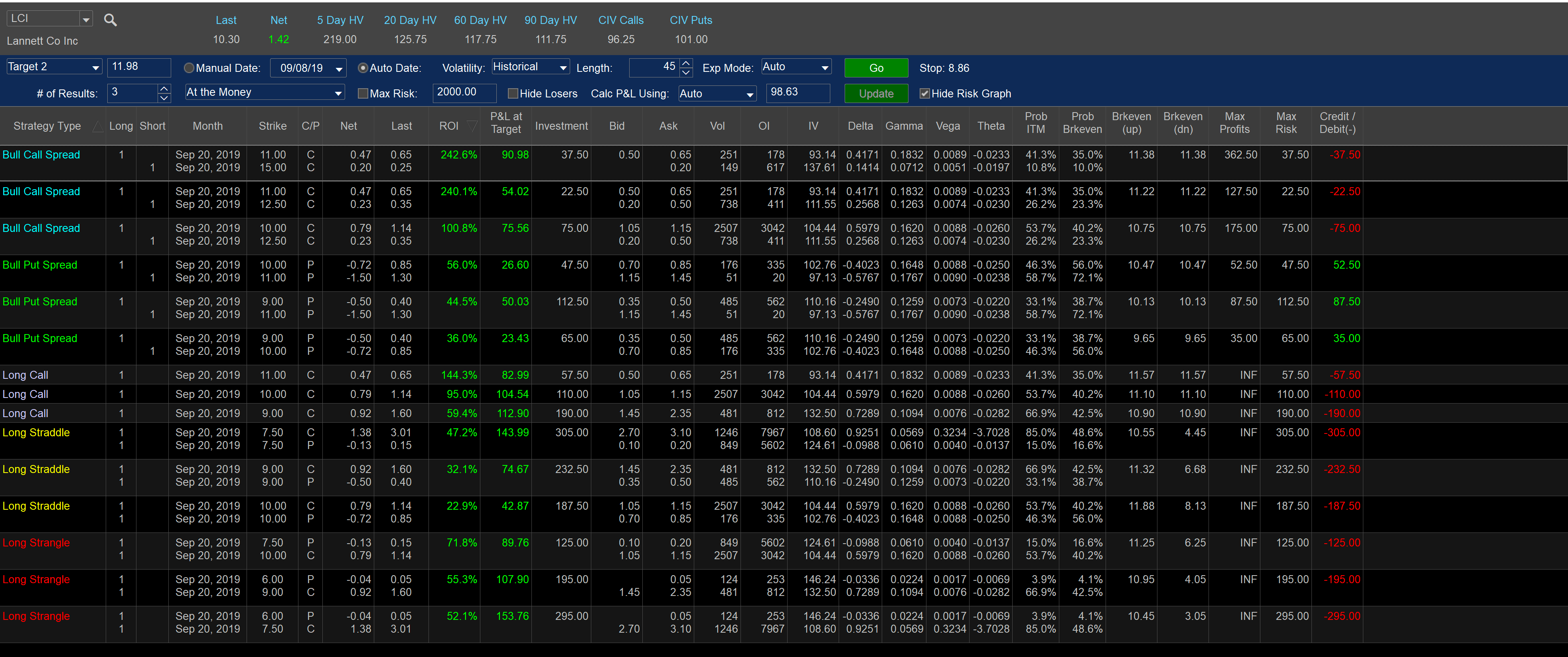 The Wizard inputs the target price into the Wizard Options. Wizard Options automatically builds a list of spreads, calls or puts, based on the targets the Wizard entered. You can then analyze the spread from the P&L (Profit &Loss) and the ROI (Return on Investment) values generated form each contract selection. You then know how much time you have to expiration of the option and how much profit you can make if the target is hit before expiration.
Wizard Options is a powerful tool designed to assist our traders in selecting the best option strategy based on a Target Price selected from The Wizard targets. You can filter stocks and ETFs with The Wizard for Trend, Price, Volume and various other filters to find the best stocks to Buy or Short Sell. Then by clicking on Wizard options, you have a display with the best possible option strategies Instantly.  They are calculated with an algorithm that integrates, volatility, delta, theta, and other mathematical formulas, that selects the best tradable month and the best tradable contracts.
WIZARD OPTIONS MONTHLY
Starter
$

499

per month
12,600+ Stocks
1,280+ ETF's
2,800+ Optionable Stocks
600+ Optionable ETFs
Sectors & Industries
The Wizard Market Trends™
Daily & Weekly Signals
Intraday Signals*
WIZARD OPTIONS ANNUAL
GREAT SAVINGS
$

4,999

per year
12,600+ Stocks
1,280+ ETF's
2,800+ Optionable Stocks
600+ Optionable ETFs
Sectors & Industries
The Wizard Market Trends™
Daily & Weekly Signals
Intraday Signals*